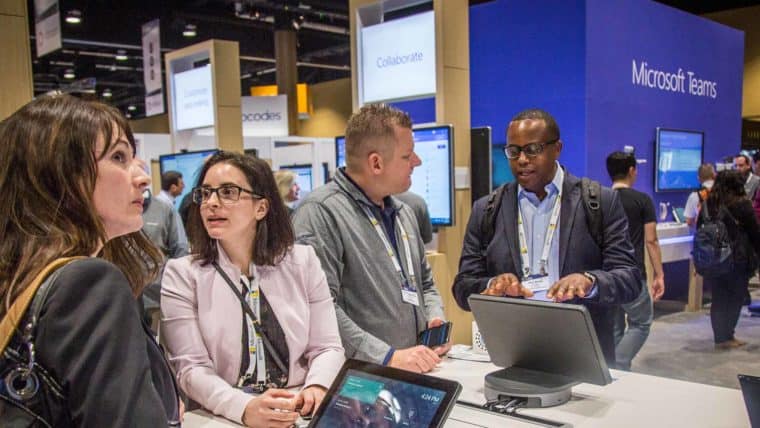 Watching March Madness can help you appreciate the importance of a good team. A basketball team can be highly ranked going into the tournament, but if they can't execute, they can easily find themselves on the losing end of a Cinderella story (looking at you, UVA!) At 2A, we know a great team can make all the difference, which is why we love projects that bring together a diverse team of consultants, designers, animators, videographers, developers and project managers. And sometimes our team works together on Microsoft Teams, on a project about Microsoft Teams. Yeah, it can get pretty meta.
This month the Microsoft Teams group headed to the annual Enterprise Connect conference, which focuses on enterprise communication and collaboration. Microsoft Teams wanted to showcase all the ways that Teams is the hub for teamwork and celebrate the product's one-year anniversary. 2A was excited to provide cross-functional support on a variety of activities including video recording and editing, web development, and production and project management.
We had videographer Andre on site to film a special episode of Teams On Air, the broadcast that showcases the latest and greatest from Teams and its partners. With all the great footage he captured on the floor and during interviews, we were able to quickly deliver a new episode. We might be biased, but we think his video and editing skills, combined with great hosting from our client, made this episode a slam dunk.
Our Teams On Air project manager, Mary, used her knack for organization to lead a smooth production process. She managed all things Teams On Air, from arranging speakers and preparing locations for live interviews, to mapping the show flow and getting social media content ready.
To allow people to watch the Enterprise Connect keynote remotely, Teams needed a website to host the keynote address from Bob Davis, CVP of Office 365. Our developers quickly created a website that could support all three phases of the livestream: count down to the keynote, livestream, and post-keynote video hosting.
2A loves working as a team and enjoyed executing a full-court press on deliverables for Enterprise Connect. Whether your next project requires technical web development, great multimedia, or a project management component, 2A has the dream team to take your project to the next round.