By: Sarah Silva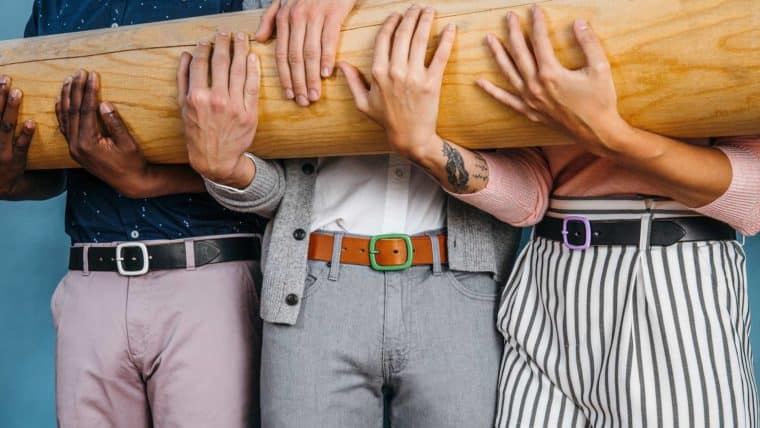 Everyone loves a good origin story. We've all been captivated by how a small but mighty spider could turn a teenager into a crime-fighting phenom. But great beginnings aren't just for superheroes—meet Joe and Tom, creators of Fruit Punch belts.
Joe and Tom were architects by day, but color fanatics and craftsmen by night. Using Joe's talent for working with leather, and Tom's eye for great color, they created their own matching belts with bright blue powder-coated buckles. Garnering ooohs and aaaahs all over town, they decided they might be on to something, and experimented with other color combos. Their super power was creating a highly coveted, well-made belt that stood out in a sea of drab accessories.
Joe and Tom came to 2A because they needed a brand that told their origin story and captured the spunky spirit of their belts. Inspired by the beautiful, yet artificial, colors of their powder-coated buckles, we came up with the name Fruit Punch. If you look closely at the logo, you'll notice our designer Radhika added some juicy droplets, playing on the sweet name.
Using our marketing superpowers, 2A created influencer kits, compelling web copy and a spunky tagline to build excitement about the Fruit Punch launch. We created the Fruit Punch Studio website that focuses on customer usability, while still being fun and bright.
With a photoshoot and launch event under our belts 😉, Fruit Punch was ready to buckle up for party. Joe and Tom were excited to launch in time for the holiday season and see their belts start to mingle with others. What started as a project among friends now inspires others to ask, #wheredyougetthatbelt?